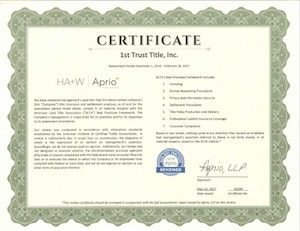 1st Trust Title, Inc has received American Land Title Association (ALTA) Best Practices Framework compliance
certification. The ALTA Best Practices Framework was developed to help lenders satisfy their responsibility to manage third-party vendors. Certification, which was awarded by the certified public accounting firm of Aprio LLP (formerly known as Habif, Arogeti & Wynne LLP), assessed the firm's security procedures, training methods, and title insurance and settlement practices.
The ALTA Best Practices framework includes guidance in seven areas: licensing, escrow accounting procedures, privacy and information security, settlement procedures, title policy production and delivery, professional liability insurance coverage, and consumer complaints. Aprio LLP performed its year-long examination, and its assessment December 1, 2016 through February 28, 2017, and issued its certificate on May 22, 2017.
"We are proud to be among the elite few in our industry that have achieved this significant certification, which continues to benefit our lender customers, real estate agents, mortgage brokers, home buyers and the sellers who use our services," said Vice President Kim Fohr. "We are committed to exceeding the standards established by the American Land Title Association's 7 Pillars of Best Practices."
American Land Title Association (ALTA), founded in 1907, is the national trade association representing more than 6,200 title insurance companies, title and settlement agents, independent abstracters, title searchers, and real estate attorneys. With offices throughout the United States, ALTA members conduct title searches, examinations, closings, and issue title insurance that protects real property owners and mortgage lenders against losses from defects in titles.
1st Trust Title specializes in title insurance, escrow and other real estate closing services for residential and commercial real estate purchases/closings. The closing and title company was founded in 1996 and is headquartered in Davie, Florida, at 7320 Griffin Road, Suite 109 and may be reached at (954) 587-1033.